ADSC researchers showcase UAS safety/security research to industry, government officials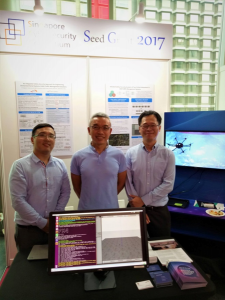 Unmanned Aerial Systems (UAS) have many uses and are growing in popularity. But because they do not utilize human pilots onboard the craft, they can pose a hazard to humans as well as the environment. Furthermore, cyber attackers may exploit vulnerabilities in UAS to wreak havoc.
ADSC and Nova Systems recently completed work on a project that aims to provide a framework to help address the safety and security issues in UAS traffic management systems (UTM). Researchers demonstrated the safety and security analysis framework along with some initial findings about related issues with several key components in UTM. The team's results were showcased at the 2019 Singapore Cybersecurity Consortium Industry Day, followed by a presentation to a senior Singapore government official.
During the project, the teams from ADSC and Nova Systems worked together to apply an integrated safety-security analysis approach to examine an UTM conceptual model and several of its components. One goal of the project was to contribute to the establishment of best-practice recommendations for the design of UTM system. Another goal was to evaluate the effectiveness of various co-engineering methods, which could be useful for other safety-critical systems.
The project team was subsequently invited to a closed-door event by the Singapore Cybersecurity Consortium to give a presentation to Singapore Senior Minister Teo Chee Hean in May 2019.
This material was based on research/work supported by the Singapore National Research Foundation and the Cybersecurity R&D Consortium Grant Office under Seed Grant Award No. CRDCG2017-S01. Any opinions, findings, and conclusions or recommendations expressed in this material are those of the author(s) and do not necessarily reflect the views of the Singapore National Research Foundation and/or the Cybersecurity R&D Consortium Grant Office.